How To Save Money On Your House Removal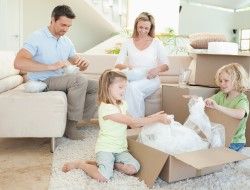 Moving house is an expensive time, as everyone knows, and with everything from agency fees to the cost of your new mortgage to worry about, the last thing you need is an expensive moving day. Nobody wants their house move to cost them a fortune, but if you're savvy and smart about how you plan for your move then you won't need to worry about the cost. There are lots of ways in which you can cut the costs of your move, all you need to do is just take a look at the following useful tips and helpful advice to help you to save money on your house move.1) Save money on packing materials.Packing materials don't need to cost you a fortune, in fact, most of them can even be sourced free of charge! Your boxes can be gotten for free from your local supermarkets and shops, so try asking there before paying for new moving boxes. Remember – these are second hand boxes, so check carefully for signs of wear and tear and reinforce them properly with packing tape to ensure they're sturdy. Check your loft, attic or garage for the original packages for your electronic goods or appliances, as these are designed to hold the weight of the item they came with, and have a look for any bubble wrap or plastic sheeting that can be used for packing up fragile items. Try asking your friends and family to see if they have any packing materials they don't need, or try saving up newspapers and magazines to use as padding. You can also use storage boxes, plastic drawers and suitcases to help you pack up your home, so why not see if you can borrow any of these items as well?2) Hiring your removal company.Removal companies can be expensive, but if you shop around for the best deals and prices then you can end up saving money on your furniture removals, man and van hire and your house movers. Have a look online to find out more about moving companies in your area, or ask friends and family for company recommendations. Don't just jump at the first company that catches your eye, as you might end up paying a large amount of money. The same goes for branded moving services versus independently-owned ones, so make sure you're looking at a few different places to get the best price!3) Getting cheap removals help.There are lots of ways in which you can cut the costs with your professional movers. If you're hiring a company for more than one service then why not ask to see if you can get a discount or package deal? Another good tip is to price-compare any companies that you might be interested in so that you can get the best price for what it is you need – remember to ask about their insurances policies too, as some services won't include insurance in the price!4) When to move.Did you know that your moving day can affect the price of the service? Weekends, bank holidays and evenings are often more expensive times to move, because they're in higher demand. If you're serious about saving money on your moving day then try to pick a less popular day and time, so that you can avoid unwanted price hikes!
More posts
You need to take extra care when moving your furniture to ensure it stays safe and to ensure that...
Relocating to another location, whether it be in and around the UK or moving abroad, can be a...